This column was published in the Tri-Valley Herald five days after Thanksgiving, 2006.
Last week on Thanksgiving, I shared with my parents and in-laws a story my 11-year-old daughter recently wrote about a rafting trip we took along the Stanislaus River this past summer. For Kelsey, it's a tale she needed to write about to get beyond the experience. For me, it's a narrative brimming with thankfulness.

Kelsey enjoys writing, and has knack for suspense: "Walking over the bridge to go river rafting for my second year, my heart pounded. I could hear Mother Nature's birds chirping, but what I couldn't know was that after this journey, I would never dare to even think about rafting."

She then describes getting instructions from the 20-year-old "radical instructor" who calls everyone dude. She notes the difficulty of climbing into the raft because "I am twice as small as I should be."

Kelsey is small for her age, having battled several medical challenges and a leaky heart when she was very young. She had open-heart surgery when she was three, and underwent scoliosis surgery after our summer vacation.

Once in the raft, but before launching, she writes how she "bounced around on the sponginess" and sung repeatedly, "I love river rafting!"

Kelsey conjures brief sketches of the family members on the trip. She writes about her stepmother, Pam, saying, "She is always happy. I have never once seen her mad."

She describes her 14-year-old sister, Melissa, as having blonde hair and blue eyes, and looking just like her mom.

I appear in the story wearing a hat with my fishing license clipped to it, important details later in the tale.

Having set up the scene and characters, Kelsey now builds to the critical moment: "After we got in the river and under a bridge, it happened. We came to it. There was the rapid."

Below an illustration of a huge blue wave going over the raft, in which a tiny Kelsey with a red life vest is seated on the bottom, she portrays the chaos that follows our plunge "right down the middle" of the rapid.

It's worth noting that this section of the Stanislaus River, which starts at Knights Ferry, is about as gentle as any river can be. Last year we rafted the same stretch and glided easily through every rapid. This past summer, though, rains caused the river to swell.

"Kelsey, hold on to the boat!" Pam shouts, and a moment later when Kelsey realizes I've fallen off the back of the raft, she screams "Dad!!!"

Picture me being pitched into a rushing river. In an instant, I was downriver from the raft, abducted by brute force from my wife and daughters, my head dunking under from time to time, my hat still atop my head, my mind panicked and flooded with thoughts of drowning or breaking a leg or arm.

During all this, 14-year-old Melissa remained calm, certainly frightened, but able to focus on working with her step mom to paddle with strength to catch up to me, to then help pull me from the fast-flowing water. Kelsey's succinct "after four tries, we got him" understates their heroic success in rescuing me.

The last page of Kelsey's story describes her tears, how in the aftermath of my rescue she "cried and cried," how the rest of the trip "was torture." She also notes that I'd lost my hat in the ordeal, and that my fishing license had been swept away.

Indeed, as we continued down river, Kelsey was almost inconsolable in spite of our efforts to calm her fears. As we coasted smoothly along several long stretches, as Kelsey snuggled next to me, my own silent terror began to give way to a profound joy and thankfulness for life.

Then something magical happened, a sign that all would be well. Kelsey writes how we came upon my hat, just beginning to sink as Melissa snatched it from the river. Then, a moment later, there was my fishing license, floating along in its plastic case, waiting for us to rescue it.

Soon, Kelsey felt better. She even sat near the front of the raft and trailed her hands through the water. When we stopped for a picnic along the shore, she tried her hand at casting and fishing.

And while at the end of the trip we were thankful to be finished and safe, Kelsey says it best as she ends her tale with the perspective of fifth-grader who has gained wisdom: "The only good thing was it makes a good story, and next year we'll be doing pottery."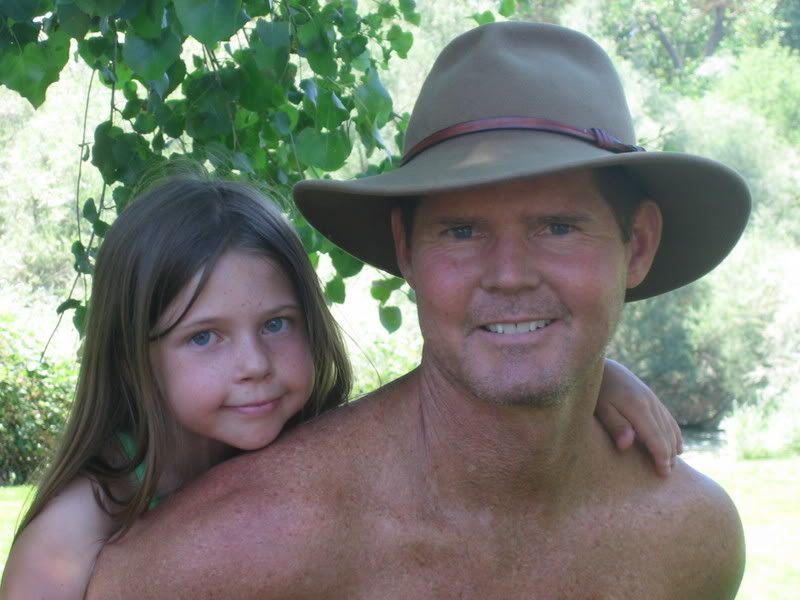 Feeling better after the trip...